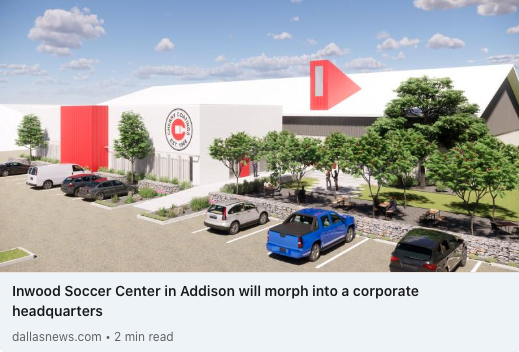 Community, Flooring Division, Painting Division, Public Relations-Awards
December 28, 2020
New Cherry Coatings Headquarters Coming Soon
The new Cherry Coatings Headquarters planning is underway! Cherry Coatings, a commercial painting, and industrial coatings company, is moving its headquarters from Carrollton to Addison and growing its footprint significantly as a result. The company is moving into the former Inwood Soccer Center at 14801 Inwood Drive, where it will be taking 56,000 square feet. The 53-year-old company will retrofit the building to house 75 employees, as well as a large warehouse with loading docks.
"As part of our growth initiative, Cherry Coatings is proud to strengthen our Dallas presence with 14801 Inwood as our new headquarters, offering our employees a top-notch workplace," said company CEO Zack Cherry in a prepared statement. "With our employees spread across DFW suburbs, Addison offered a central location with easy highway access."
The company was previously headquartered at 2000 Surveyor Blvd., which has 12,400 square feet. The new headquarters has been designed by BOKA Powell and is being renovated by McCarthy Building Companies. The space will utilize the existing ceiling height with a mezzanine and will feature increased natural light. A large training room will support employee performance, along with an indoor break room that can open into an outdoor courtyard. The building's "bubble" portion will also be used by employees for recreational activities.
Renovations are expected to begin early next year with a move-in date set for fall 2021. NAI Robert Lynn Principal and Partner Chad Albert represented Cherry Coatings in the deal.
Aside from its new headquarters, Cherry Coatings also has offices in Austin, Fort Worth, Houston, and Nashville.
More information on Cherry Coatings Headquarters
Read more – D Magazine,  Dallas Business Journal & Dallas Morning News