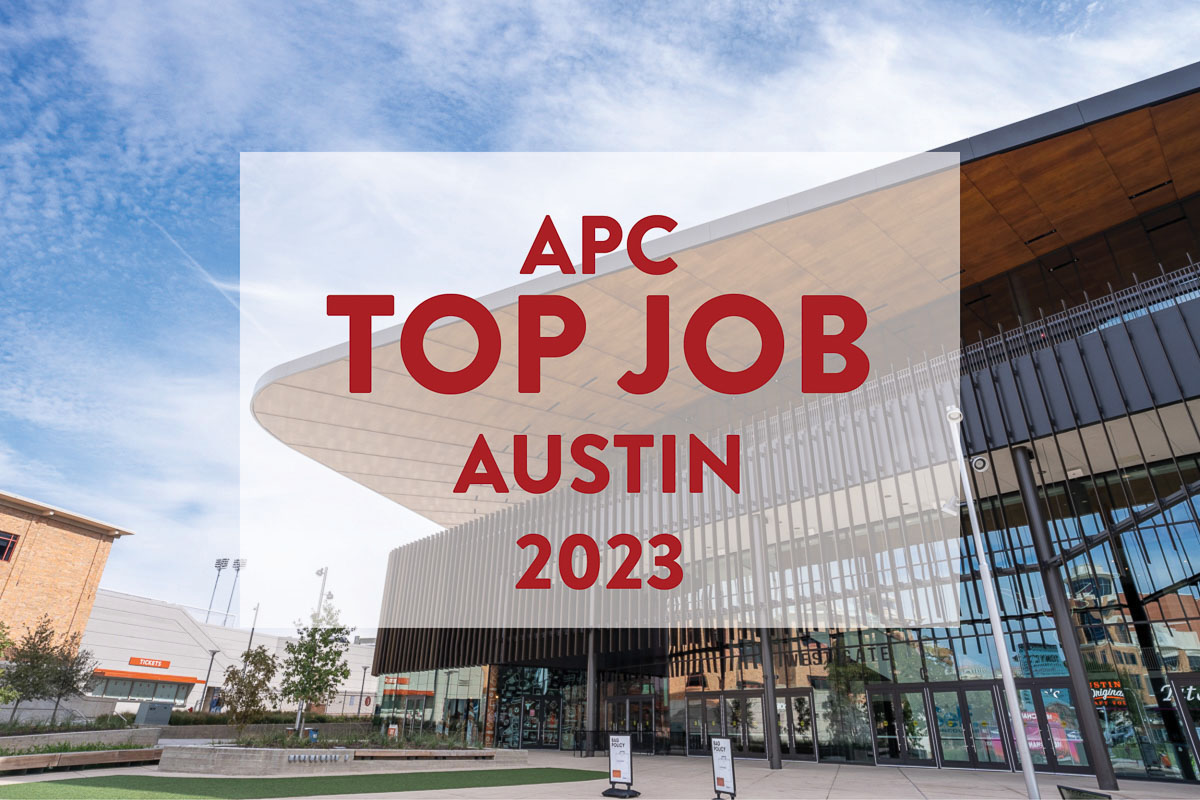 Public Relations-Awards
April 18, 2023
Cherry Coatings Named 2023 Top Job Austin
Boulder, CO – Cherry Coatings was recently named by American Painting Contractor (APC) Magazine as the winner of the 2023 TOP JOB Austin, TX. TOP JOB honors only 20 jobs per year across the US and Canada for superior work and commitment to excellence in the painting industry.
Massive scope, tight deadlines, coordination of up to 80 painters in the day and 40 each night was an impressive feat by Cherry Coatings. The team did an excellent job putting the final touches on a facility prepped for the many star performers scheduled for its stage.
"We are so proud to have been part of this project. Our team put in a lot of hard work to get it done and getting recognized for it is a great feeling for all of us," said Josh Langwell, VP of Austin Office.
APC is the national magazine published for painting contractors, and the TOP JOB Awards are sponsored by top manufacturers such as Zinsser, FrogTape and CompanyCam.
APC's 2023 TOP JOB Awards are the 24th of a series recognizing painting contractors who go above and beyond for their clients and industry. The APC staff judges the entries and selects the winners based on craftsmanship, technique and creativity as well as the contractor's ability to overcome challenges, communicate with clients and deliver an excellent finished product.
Each 2023 TOP JOB winner is featured in a full-page article about their company and their 2023 TOP JOB in the April issue and on paintmag.com releasing April 17th, 2023.
About APC
American Painting Contractor is the #1 resource for painting contractors. For 99 years, APC has been the trusted source for application techniques, new products, business strategies and news. More information about the publication can be found on their site at paintmag.com.
About Cherry Coatings
Established in 1968, Cherry Coatings is a family-owned business that provides architectural, industrial, and maintenance coating services. With offices across Texas, Arizona, Nashville, and North Carolina, we have worked on some of the largest commercial projects in the region. Facility managers and building owners trust Cherry Coatings to deliver. Cherry Coatings understands the need to minimize impact on your daily operations while providing quality systems. Their large workforce and specialized teams help us provide accuracy, speed, and safety. To learn more, visit cherrycoatings.com.