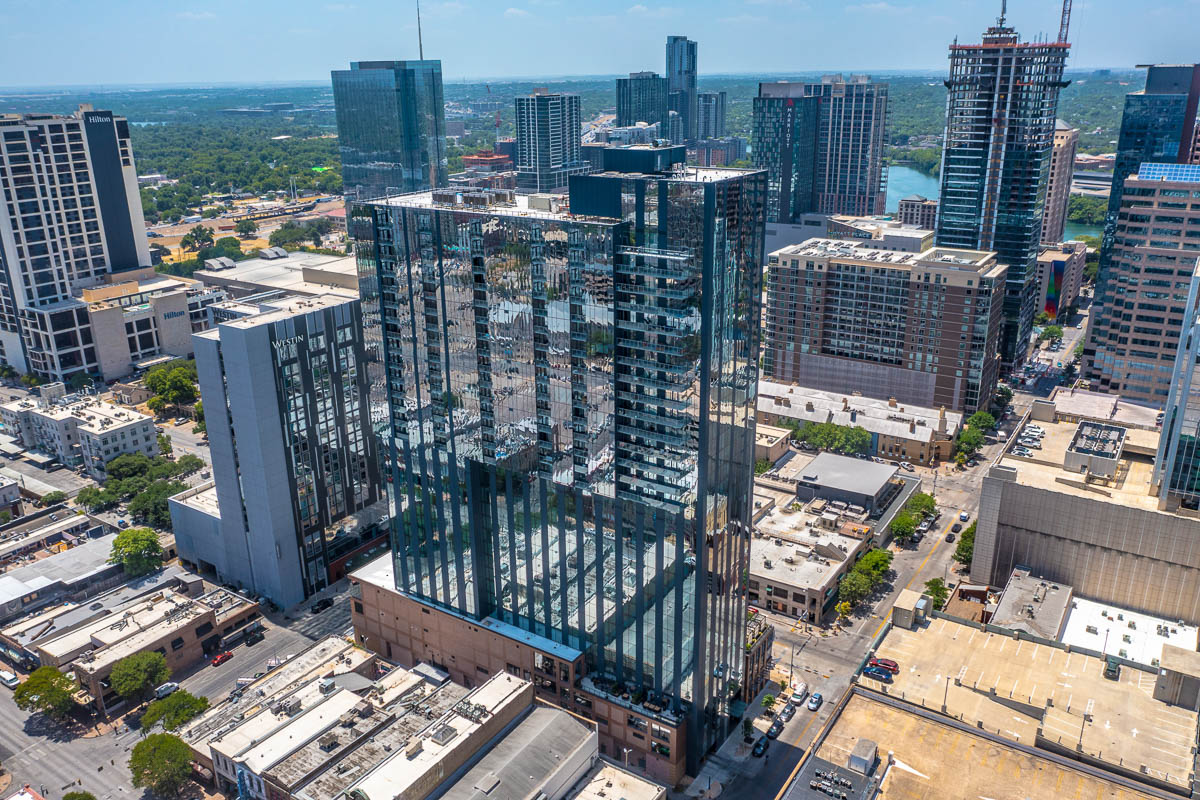 Flooring Division, Painting Division, Wallcovering
July 27, 2023
Coating a High Rise in 2023 – Scope & Best Practices
High rise buildings may be used for offices, hotels, apartments, or a mix of all these. While their uses may differ, they all have similar characteristics that make their construction and maintenance unique within the industry. With a scope spanning several floors and limited passage between them, communication, transportation, and cleaning of materials all must be carefully planned out. In this blog we will explore the vast scope and best practices when painting high rises, with a focus on multifamily and hospitality uses.
Scope:
Lobbies & Common Areas: Wallcovering, accent walls, wood veneer, and more bring common areas to life. These areas are often the first impression a new guest or resident get, so it is important that they convey the level of excellence that can be expected during their stay.
Rooms & Apartments: Apartment units and hotel rooms make up the majority of a high rise, so it is no surprise they are the largest part of a multi-unit high rise's scope. Multiple floors are being worked on at the same time, and providing a consistent, quality product in a timely manner is of most importance.
High Traffic Floors: High-traffic areas demand durable flooring solutions. Polished concrete floors not only withstand heavy foot traffic but also offer an attractive and low-maintenance finish.
Back of House Kitchens: Hotel and shared kitchens require surfaces that can withstand frequent cleaning, spills, and potential chemical exposure. Epoxy or urethane coatings for kitchen areas provide a protective layer that is resistant to stains, abrasions, and moisture.
Stairs: Emergency stairs are an essential part of every high rise building. Safe egress in case of an emergency can become more difficult without proper signaling. The scope of stairs may include rails, walls, and even photoluminescent strips.
Best Practices:
Manpower Organization: With multiple floors being worked on simultaneously, keeping teams organized is a top priority. Small teams of 3-5 people may be working on each floor, each requiring a lead person.
Staging/Transportation of Materials: High rise buildings often have a limited number of transportation methods. With heavy materials and multiple levels, buck hoists and elevators become a necessity. New buildings under construction will have several trades using a limited number of buck hoists, which can make going up or down a lengthy process. Because of this, transporting and staging materials effectively is very important.
Communication: Large projects require clear and consistent communication. It is important to keep open lines of communication between team members, coordinate with other trades to ensure smooth workflow integration, and work closely with the general contractor to address any concerns or changes promptly.
Cleaning: New constructions may not yet have running water, especially during early stages of priming. As such, cleaning brushes, rollers, and other tools becomes a challenge. Even buildings with running water may not want sinks being used for these purposes. Using mobile washout stations allows for proper tool cleaning.
Why Us?
Production: Our large workforce enables us to assign 2-5 skilled professionals per floor, including a leader, enabling us to handle projects of any scale efficiently. We possess the manpower and leadership abilities required to meet tight deadlines while maintaining exceptional quality standards.
Safety: We prioritize safety and have dedicated safety teams in place. Our personnel receive comprehensive safety training, adhere to industry regulations, and implement best practices to ensure a secure work environment.
Quality: Our teams are composed of experts in their respective fields, whether it's applying limewash, installing wallcoverings, or executing intricate epoxy floor systems. We take pride in our craftsmanship and attention to detail, delivering beyond expectations.