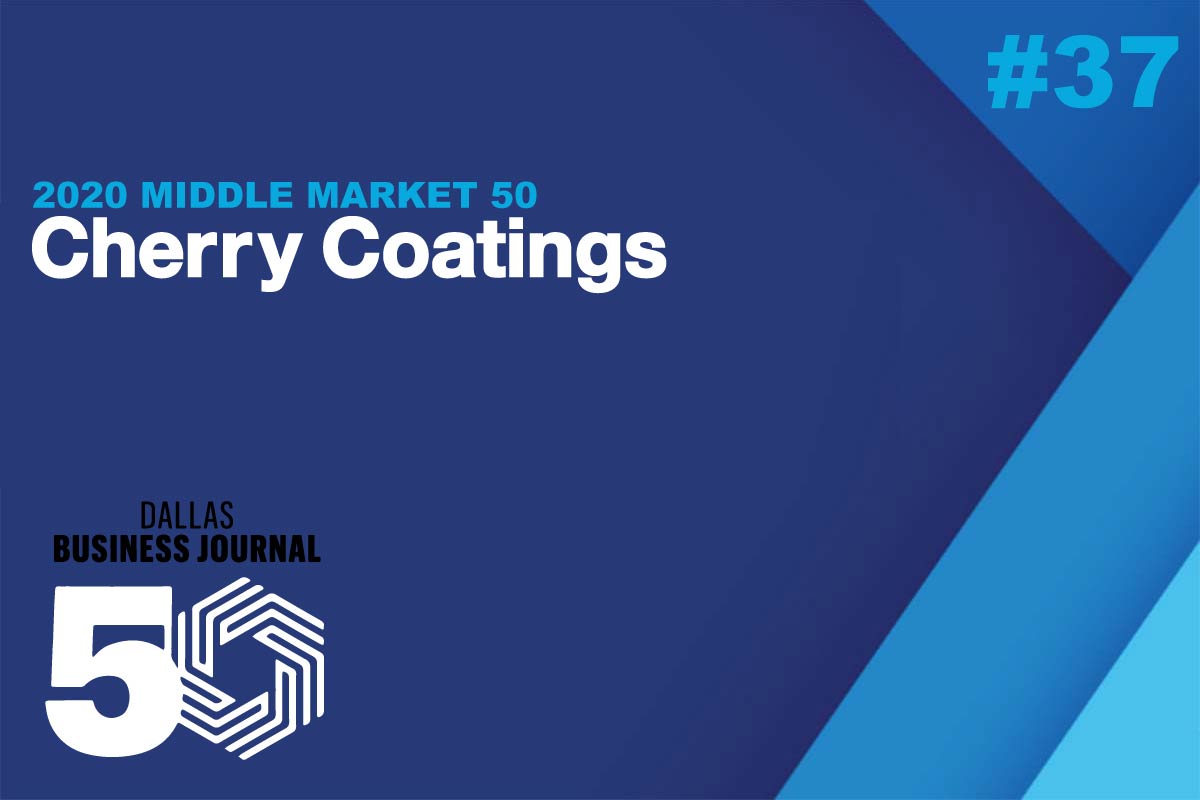 Public Relations-Awards
July 15, 2020
DBJ – Middle Market 50 Interview
Middle Market 50: Meet one of the fastest-growing midsize companies in North Texas
During the virtual event, the CEOs and executives of several of these companies discussed how the pandemic has affected them and what changes they anticipate for their industries as a result of such rapid change.
Can you briefly talk about your company and what it does? 
In the 53 years since their grandfather's father, started the firm, the Cherry family has grown the company and helped coat some of the most well-known buildings across Texas. Now its third generation, Zack Cherry is positioning the company for more growth. Cherry Coatings is a subcontractor that provides commercial painting and industrial flooring. We partner with large commercial real estate developers, architects, and contractors to ensure their projects are delivered beyond expectations.
Can you talk about the effects COVID-19 has had on your company?
COVID-19 has tested our country, our industry, and our company. With the economy on pause, Cherry has facilitated the company's growth plans, actively pursued hiring the best candidates, looked at emerging markets, enhanced technology to empower our staff, and internally positioned the company. During this time, our pivot strategy has been building stronger relationships with clients, strengthening our internal communication, and adapting all staff to the new safety processes at job sites.
Where did your business stand at the end of February 2020? What are you projecting your company will now end up 2020?
In February, Cherry Coatings had a strong revenue growth projected to surpass our budgeted 2020 revenue by over 5%. Even during this pandemic, we are positioned to be within 5% of our projected revenue which we feel is a success. With the economy already slowing in some areas of Texas, we have continued to be focused on solidify long-term client relationships while pursuing new opportunities and looking at emerging markets.
What are you now projecting for 2021? What do you see as your growth opportunities?
The beginning of 2021 has many unknowns and uncertainty has caused delays of previously planned projects either being designed or scheduled to be under construction. Our construction project projections for 2021 will be slightly slower first quarter. However, our growth opportunities of targeting emerging markets, strategically recruiting the right candidates to enhance our work culture, and diversifying services will position Cherry Coatings for successful revenue growth in 2021.
What is your company doing to address diversity and inclusion issues (especially in the wake of protests after the death of George Floyd?) What does your company need to do better?  
Our corporate philosophy has always been transparent to recruit the right talent and cultivate or foster talent from within the company. We take gender equality to a deep level, and we embrace diversity as a source of innovation, creativity, as well as a competitive advantage – knowing different backgrounds is better. Our focus is on our work culture, our people who share our values and interested in developing and supporting their quality of family life. One of our goals for next year is a new headquarter office that will have the best workplace.
What is something people aren't thinking about that will change the industry in the coming years?
The workforce is ever-changing and as a company, our goal is to be flexible to evolve and transform. At Cherry Coatings we are deeply involved in developing an enterprise business strategy, leveraging cutting-edge technology to redesign our current work outcomes to focus on exponential increases in productivity and cost-effectiveness.
What have been your three biggest drivers of growth over the past few years?
Recruiting the right people has significantly impacted the growth of Cherry Coatings. Our strategic operational effort to evolve has helped us adapt to emerging markets. Lastly, we have focused on operational excellence to position employees for success.
Thank you to the Dallas Business Journal for the recognition in the Middle Market 50.