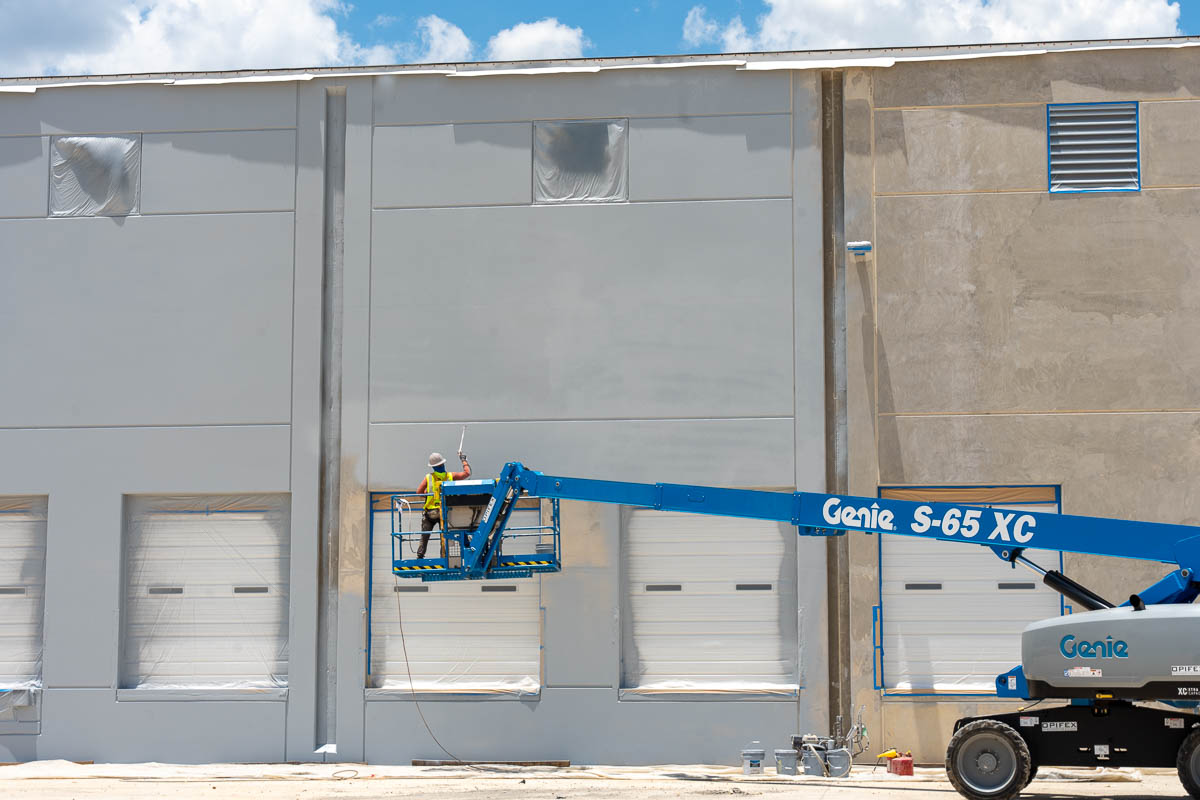 Painting Division
June 19, 2023
Painting a Logistics Facility in 2023 – Scope & Best Practices
Painting a logistics facility can present various challenges. The size and scope of these projects often require special products, equipment, and application methods. Cherry Coatings is a commercial painting contractor with years of experience in the commercial and industrial industries. In this blog post we will explore what the scope of a logistics facility entails, best practices for coating applications, and why using a reputable contractor is the way to go.
Scope
Warehouses, distribution centers, manufacturing facilities, and industrial parks all require high quality coatings. The scope of a logistics facility may include interior and exterior surfaces: walls, floors, ceilings, and structural elements. From tape & float to elastomeric coatings, Cherry Coatings has the resources and expertise to get the job done in a timely manner.
A logistics facility may require the following coating applications:
Elastomeric & Texture Coatings: Logistics and industrial buildings typically have concrete structures. From precast concrete, poured in place concrete, or tilt walls – Elastomerics are applied to provide visual appeal, but also function as a waterproof protective layer.
Floor Coatings: High traffic and heavy equipment use in warehouses requires strong, durable coatings. Polished concrete and epoxy coatings can provide enhanced durability, ease of cleaning, and resistance to chemicals, impacts, and abrasions.
Metal Coatings: Ceiling structures, metal stairs, bay doors, and bollards all need coatings for aesthetics and performance.
Joints: To have smooth and seamless finishes, wall panels and concrete floors require quality tape & float work, as well as floor joint filling.
Best Practices
Surface Preparation: Thoroughly cleaning, sanding, touching up, masking, and priming surfaces before painting ensures proper adhesion for a cleaner look and long-lasting results.
Product Selection: Color and product performance can impact the look and feel of a facility. Working directly with a manufacturer, such as Sherwin Williams or Sika, means your project will be paired with the best material for its specific use and environment.
Environmental Factors Inspection: Proper application of a product can be impacted by variables common in cementitious surfaces often seen in logistics facilities. Ensuring proper moisture content, pH levels, and clean surfaces can save future costs by preventing product failure.
Mockups and Adhesion Testing: In addition to environmental factors, there may be substances on the substrate that directly affect coating adhesion. Bond breakers and passivators used in concrete structures and galvanized metals, respectively, make it impossible for coatings to penetrate and hold on to the substrate. It is important to do mockups, adhesion tests, and passivator tests to ensure the product will perform.
Safety Measures: Strict adherence to safety protocols, such as the use of personal protective equipment, proper ventilation, and proper use of equipment, is crucial during the coating process.
Experienced Contractors: Partnering with contractors experienced in commercial coatings for logistics facilities ensures quality workmanship, timely completion, and adherence to industry standards.
Hiring the right painting contractor for your logistics facility can be the difference maker. A knowledgeable team, skilled painters, and communicative project managers help with:
Production: The size and experience of a contractor directly impact project completion times. Cherry Coatings boasts a workforce of over 1,000 employees that can be leveraged to fit your production schedule.
Quality: A team with skilled and seasoned workers can also raise the quality of a project. Our teams include skilled craftspeople that have decades of experience. This, plus our quality assurance process and GC/owner walks helps us deliver beyond expectations.
Safety: A logistics facility often require the use of specialized equipment such as boom lifts and spray rigs. Cherry Coatings has specialized Safety teams in each city, minimizing injuries and ensuring adherence to OSHA's guidelines.
Reliability: Hiring an established and reputable contractor means not having to worry about missed deadlines, system failures, and unresponsive project managers. Cherry Coatings, through 55 years in the industry, has built a reputation of excellence.
Painting a logistics facility goes beyond aesthetics, providing many advantages that contribute to the facility's functionality. With the help of experienced commercial paint contractors and adherence to best practices, your warehouse, distribution center, or industrial park project can be transformed into the visually appealing spaces clients love.