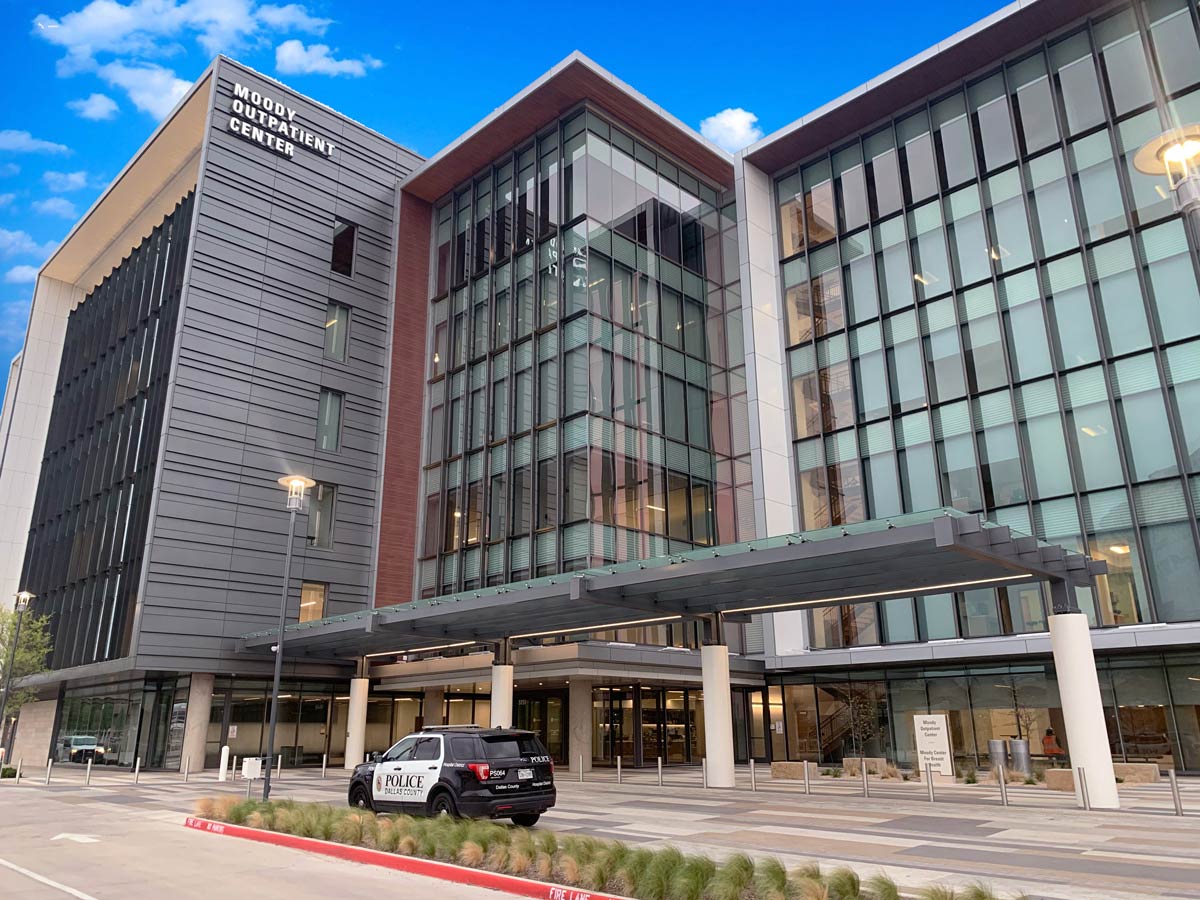 Painting Division, Flooring Division
April 7, 2021
Parkland Moody Clinic for Breast Health
Construction is complete on Parkland Moody Clinic for Breast Cancer, located on the first floor of the system's new outpatient clinic building, a freestanding six-floor medical building in Texas. The newly opened 40,000-square-foot clinic provides comprehensive breast care to all Dallas County residents seeking care. The new center is designed to be a warm, welcoming, hopeful environment for patients.
Services at the Parkland Moody Clinic such as medical and surgical oncology, plastic surgery, imaging, infusion, physical therapy and more will be co-located in the outpatient clinic building. Previously, patients had to make separate appointments at different locations, and coordinate transportation, childcare, and work absences for these multiple appointments.
To further facility accessibility, the building was specifically sited to be adjacent to DART bus and rail stops, strengthening the convenience and connectivity for those arriving by public transit to receive care. The design features many improvements for environmental performance and the project is expected to receive a LEED Silver rating.
The outpatient building at the Parkland Moody Clinic totals 500,000 square feet and will also house other tenants including administrative offices; antibiotic therapy; diabetes foot wound; HIV clinic; nutrition clinic; oncology clinic, oncology infusion, oncology lab, and oncology pharmacy; ophthalmology, oral surgery clinic; surgical oncology; palliative care clinic and physical medicine and outpatient rehabilitation. Further, the fifth and sixth floors will allow consolidation of the remaining elements occupying the outpatient building, formerly the old Parkland hospital, on the new hospital campus.
The joint-venture team of McCarthy/Crowther self-performed concrete, foundations, and vertical columns featured in the building. The team also employed offsite prefabrication for the panels that cover the north and south walls – with curtain infills for the remaining sections – saving two months on the schedule.
Under the scope of the project, the construction team conducted site and civil work, including underground utilities from the central utility plant to the outpatient clinic. They conducted extensive utilities work, bringing power and hydronic piping from the existing CUP across the street, working in the roadways on all three sides of the building to get sanitary, storm, city water connected, and tying in pneumatic tubing and fiber to another existing/active clinic on the other side of the DART rail.
The construction team for the Parkland Moody Clinic also used virtual reality headsets during client mock-up reviews. This allowed for end-user groups to walk the space virtually and ensure furniture, computer monitors, and equipment were in the right place in their work zone, thus avoiding costly change orders after the fact. The project was completed on schedule with zero lost-time injuries.
The project team also included Burns & McDonnell (design and building commissioning) and HKS (architecture).
Click here to view the article