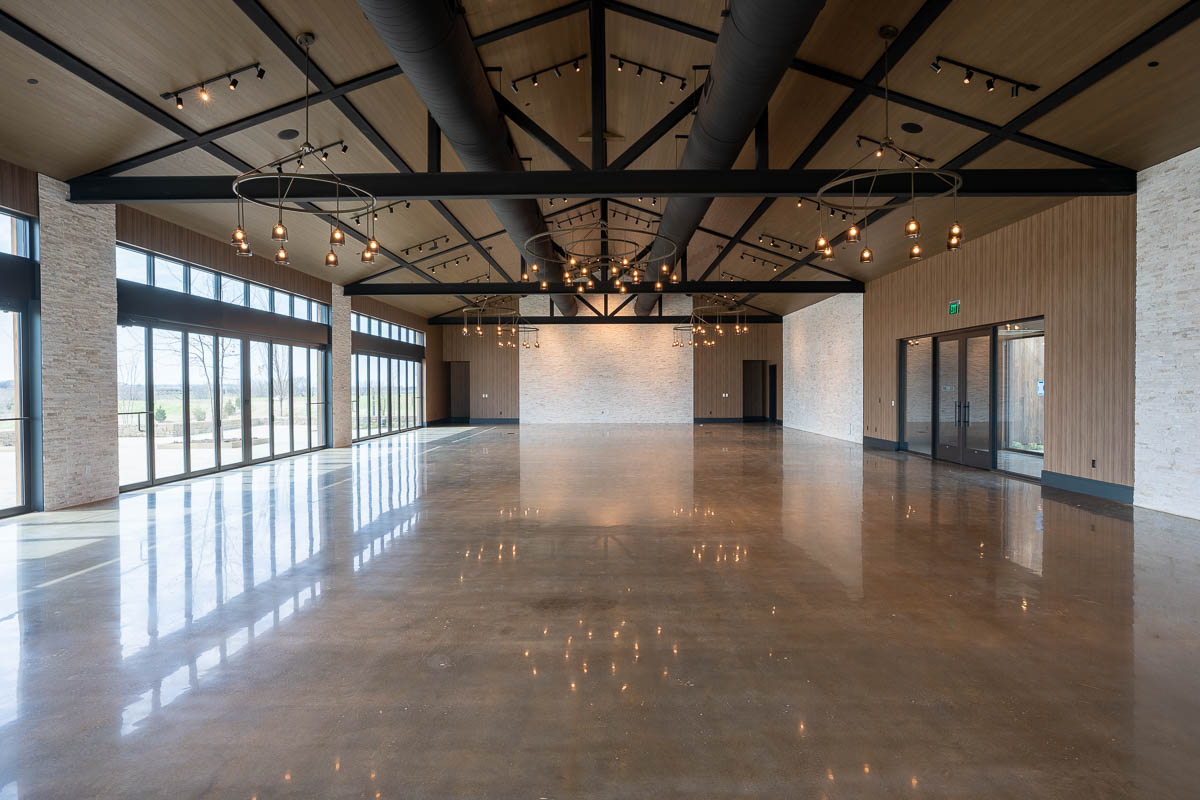 Flooring Division
June 26, 2023
Polished Concrete in Commercial Buildings: Advantages, Disadvantages, Uses
Polished Concrete in commercial buildings can change the look and enhance the endurance of floors. This solution, while not the best fit for all floors, also helps reduce maintenance and repair costs. In this blog post we will look at what polished concrete is, its advantages, disadvantages, and what applications it is great for.
What is polished concrete in commercial buildings?
Polished concrete is a process where a concrete surface is mechanically grinded and polished to produce a smooth, glossy finish – perfect for areas with high traffic. The top layer of concrete is removed, exposing the aggregate underneath, which is then grinded with progressively finer tools until the desired finish is achieved. Densifiers and sealants can be applied to further improve the durability and appearance. This system is popular in commercial buildings with high traffic, such as retail spaces and warehouses.
Advantages
Polished Concrete in commercial buildings can provide both visual and performance benefits:
Aesthetics: From a matte finish to high gloss, this solution can provide various looks to match your space. Overlays can also be installed, giving your floors different color options.
Durability: The process of polishing concrete increases its hardness and strength, making it more resistant to wear and tear.
Low maintenance: The dense surface created by polishing helps resist the absorption of liquids, making it relatively stain resistant and easier to clean. Adding a sealant will further increase the stain resistance.
Cost-effective: The increased life span and lowered maintenance requirements can make polished concrete a cost-effective solution for the long term. Additionally, it can often be more cost effective than epoxy or urethane cement solutions.
Disadvantages
While polished concrete floors can present various benefits, it may not be suitable for all use cases. Here are some disadvantages to polished concrete in commercial buildings:
Slipperiness: The smooth, glossy nature of this flooring solution can make it difficult to walk on when wet. If grip is an important element of your flooring needs, anti-slip additives can be incorporated. Epoxy or urethane systems should also be considered if this is a priority.
Noise: Another side effect of the reflective surface can be increased noise and echoing.
Insulation: Concrete's low insulation properties means your floors may require specific temperature considerations.
Sensitivity: While the surface of polished concrete in commercial buildings is smoother and denser, it can still be prone to stains, especially from acidic or abrasive materials. Sealants may help with this, or alternative flooring solutions such as epoxy or urethane cement may be considered.
Specific Applications
Polished concrete in commercial buildings can be applied to a variety of facilities. Their high traffic and easy maintenance requirements make this solution highly attractive. Some specific applications are:
Schools: Hundreds if not thousands of students walk through school halls every day. The density and strength of polished concrete in commercial buildings makes it a long-term cost-effective option.
Warehouses: Forklifts, pallets, and heavy materials may scuff up the floors of a warehouse. Polished concrete increases the resistance of concrete floors, while maintaining a simple, visually appealing base.
Office Buildings: High traffic in office buildings, as well as minimal time for cleanup means floors must be durable and easy to clean.
Airports: Constant traffic and wide-open spaces make polished concrete a valuable flooring option.
Hospitals, shopping centers, retail spaces, stadiums, arenas, event centers, and more! Most areas with high traffic are likely to benefit from a polished concrete flooring solution.