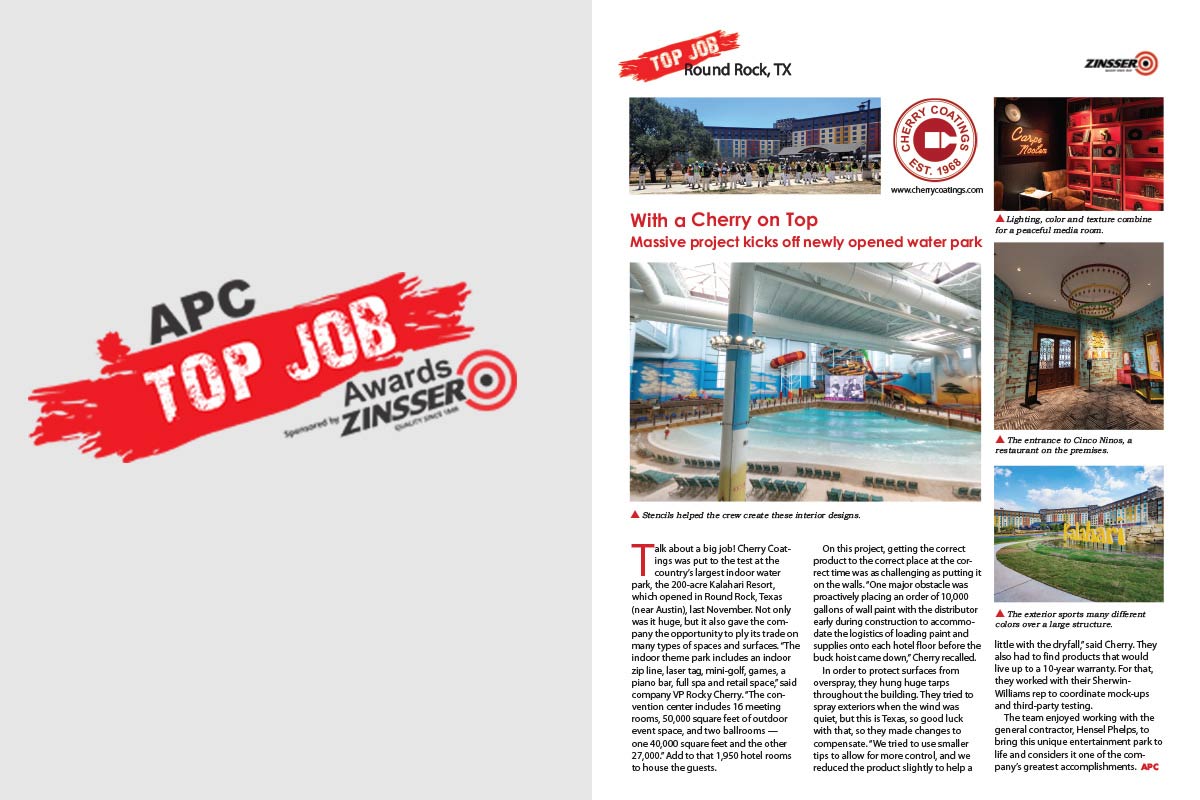 Public Relations-Awards
April 21, 2021
American Painting Contractor Top Job Winner
APC announces Cherry Coatings as Top Job winner painting the country's largest indoor water park, Kalahari Resort & Convention Center.
About the Kalahari Resort project
Cherry Coatings was put to the test at the country's largest indoor water park. The Kalahari Resort & Convention Center is a $387 million project located on 152 acres of an overall 355-acre site. The project, located 15 miles north of Austin in Round Rock, Texas, is a full-service vacation destination embracing the magic of Africa.
The resort includes an 11-story hotel with 975 guest rooms and is anchored by a state-of-the-art 200,000 SF convention center. The project provides an endless entertainment experience with Tom Foolery's Adventure Park, multiple outdoor pools, and the world's largest indoor waterpark spanning 223,000 SF.
The indoor theme park contains more than 80,000 SF of thrill rides, a ropes course, climbing walls, an indoor zipline, bowling, laser tag, mini-golf, and more. 10,000 SF of retail space, a salon and spa, multiple restaurants and beverage locations, 4,000 surface parking spaces, and on-site public improvements round out the expansive project. The resort and convention center opened in November 2020.
Not only was it huge, but it gave Cherry Coatings the opportunity to utilize our painting services on many types of spaces and surfaces. "The indoor theme park includes an indoor zip-line, laser tag, mini-golf, games, a piano bar, full spa, and retail space," said company VP Rocky Cherry. "The convention center includes 16 meeting rooms, 50,000 square feet of outdoor event space, and two ballrooms, one 40,000 square feet and the other 27,000." Add to that 1,950 hotel rooms to house the guests. General contractor Cherry Coatings partnered with was Hensel Phelps.
Testimonial for Cherry Coatings
"It gives me great pleasure to write this unsolicited letter recommending the services provided by Cherry Coatings and in particular, Josh Langwell and Ken Harris and the team they managed, who worked for over two years on the Kalahari Resort project in Round Rock, TX. I've lost count of the number of times these guys went above and beyond the call of duty! As Kalahari Project Manager, I know I speak for our ownership and the entire staff when I say these guys did an amazing job and were a pleasure to work with!"  – Project Manager, Kalahari Resorts